Happy birthday to me! So this was a birthday present to myself for the new office. Have I mentioned that I LOVE red? And I love powerful statements. In our former space, I had the famous quote from Marianne Williamson about letting your light shine and releasing that power in others to do the same.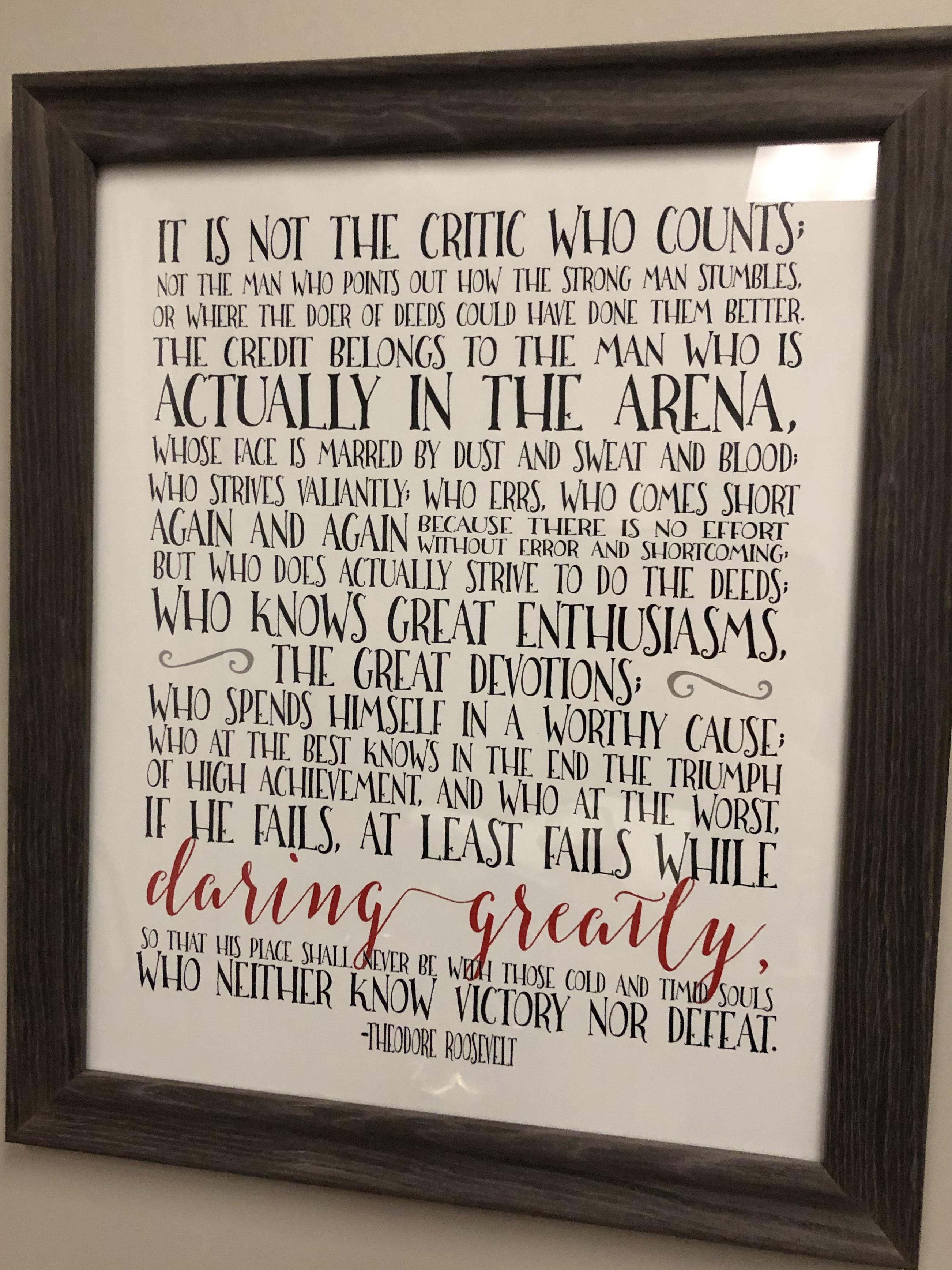 "It is not the critic who counts." I feel very blessed to not have had to endure all that many critics. Not only do we have an amazing birth worker community here in Phoenix, but also a pelvic PT community and within our Healing Space, absolutely the best tribe of women anyone could hope to be surrounded by! However, the past 18 months have definitely taught me multiple lessons in perseverance, patience, listening, choosing differently (this one could be a whole blog post on its own), grace and the power of choosing what people and thoughts I'm allowing into my awareness. "whose face is marred by dust and sweat and blood – who strives valiantly, who errs"
I've read a majority of everything that Brené Brown has written and it's because of her book, Daring Greatly, that I learned about this quote. (Insider secret: It's written under the paint in the yoga studio as well). I wanted it hanging on my wall for several reasons: We are doing work that matters. I am often my own biggest critic. Only I can give away my power. I am the one who can either allow or stop things from taking me out of my purpose and calling. There are a lot of amazing spaces in the world but this one is mine and it's my responsibility and honor to keep the vision for it moving forward. I want this reminder of why I do what I do and why I do it with the people I do it with. I want this reminder of how I want to show up in the world and who I want to be to the people in my circles. I am someone who will get in the arena and fight with and for those I believe in. I want to always be lifting others up, a champion for success in any arena. It's a reminder that failure isn't defeat and that I can choose my battles. What do you love enough that you're willing to shed blood, sweat, and tears to make it happen? Who do you love enough that you're willing to get in the arena with them? These questions matter and can definitely help give you clarity about what in life is worth pursuing.
Ok so I just poured my heart out. And NOW I want to hear from you guys! Please respond to this post and let me knowWhat arena are you feeling called to?What arena are you already in?How do you feel in that arena?It means the world to me that any of you have read this far. I'm begging you to ask yourselves these questions. Don't let anyone speak to you from the cheap seats! Blood sweat and tears only. Those who've been there. Those who have what you want. Those who speak life to your dreams. If you're going to fail, at least fail while Daring Greatly!And call me if you need backup! I know both victory and defeat and have GREAT enthusiasm! Much love to you Gladiators!